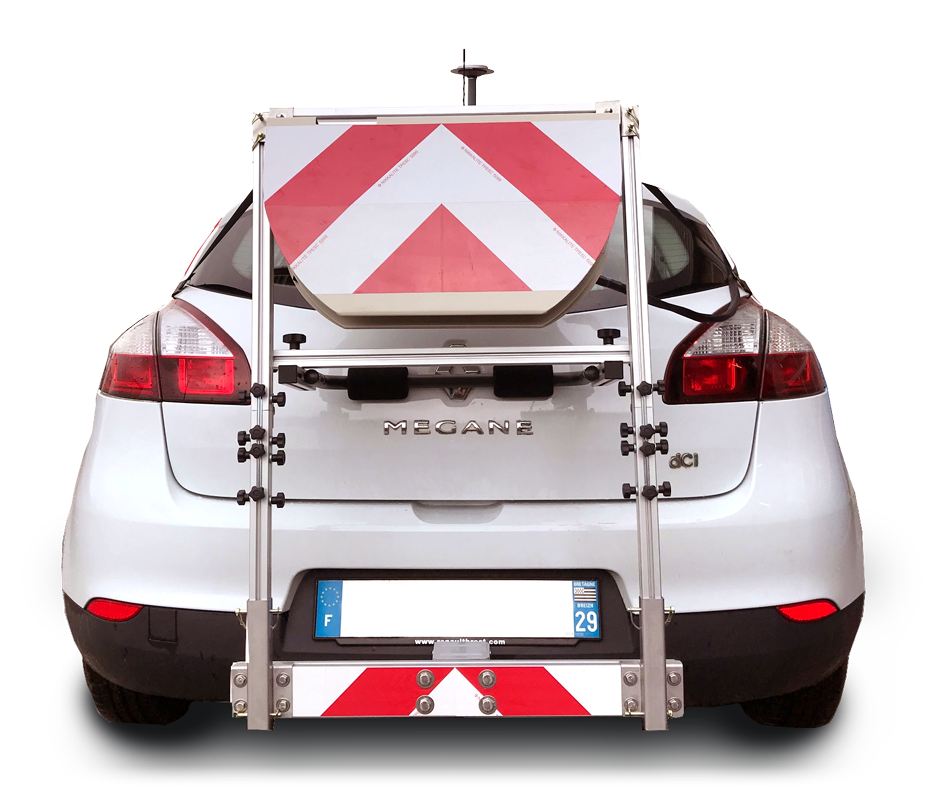 FIELD OF USE

In order to inform network managers about the deformations presented by their pavements, the LASER transversoprofilometer, designed by VIAPIX Systems, allows a first level investigation which is conducted efficiently thanks to its concept of compact, portable equipment without exceeding the gauge.
It allows you to quickly cover hundreds of kilometres to determine the indicators commonly used in this investigation.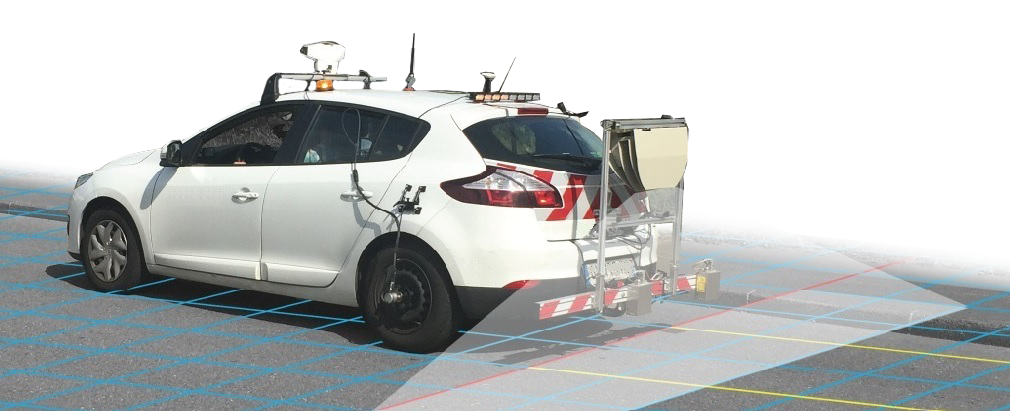 CONSTITUTION AND CHARACTERISTICS

The technical solution achieved is based on the use of a 2D LiDAR-type sensor offering the performance required by the environment of use and the associated metrological objectives:
Norm NF P98-219 – Tests relating to transverse evenness
Test method N°49 – Measurement and interpretation of the cross section
This system belongs to the group of dynamic discontinuous transversoprofilometers.
This function, provided with a signal of the distance covered, is supervised by a viapix acquisition module which ensures the piloting and control of the measurements.
PROFILE CHARACTERISTICS
Measurement width: 3,50 m (configurable)
Maximum resolution of the transverse profile: 640 points
Transversal resolution: ± 3 mm
Vertical resolution: 0,1 mm
Accuracy on rut depth: ± 3 mm
The characteristics of the sensor allow the acquisition of a profile every meter at the speed of 90 km/h, with an optimal transverse resolution of 3 mm, and up to a profile every 0.25 m for a transverse resolution maximum of 100 mm
Data Exploitation
Software is provided for the interpretation of the acquired data. It allows a rereading of the profiles (set of points along the transverse axis and the vertical axis), as well as the visualization of the various indicators.
The application offers several types of filtering, it allows the choice and configuration of multiple calculation options (lane width, length of the calculation rule, …).
Hardware
High-resolution LASER Scanner, for outdoor use
LASER Class 1 (intrinsically harmless)
Scan angle: 190°
Sweep frequency: 25 to 100 Hz
Angular resolution: from 1° to 0,1667°
Serial Communication (RS232, RS422) and Ethernet TCP/IP
Power supply: 24 VDC (12 VDC/24 VDC conversion integrated in the Multifunction Interface Box)
Protection class: IP67
Operating temperature: -30° +50°C
Weight of the support + sensor assembly: 22 kg
Fixing on the towing hook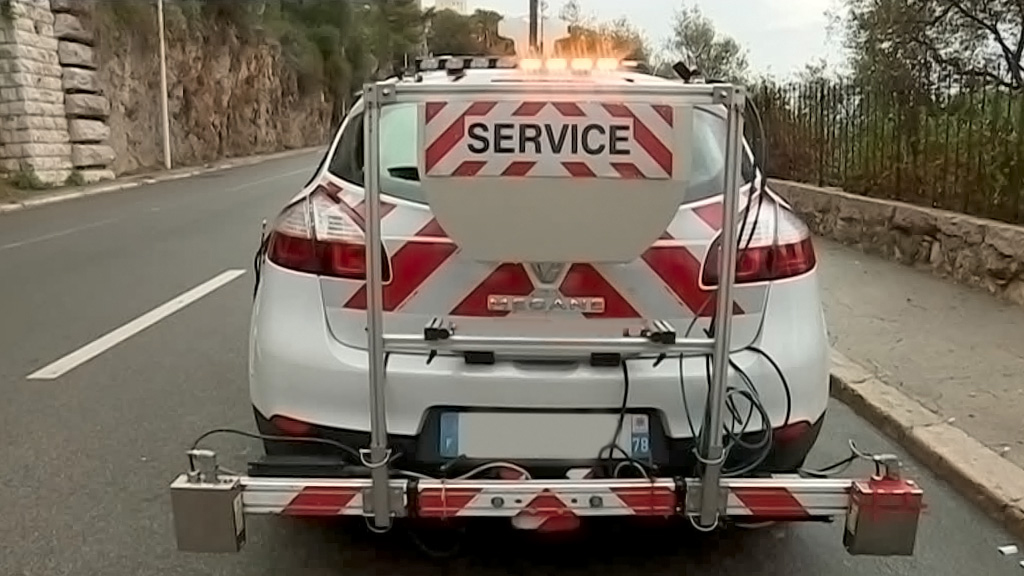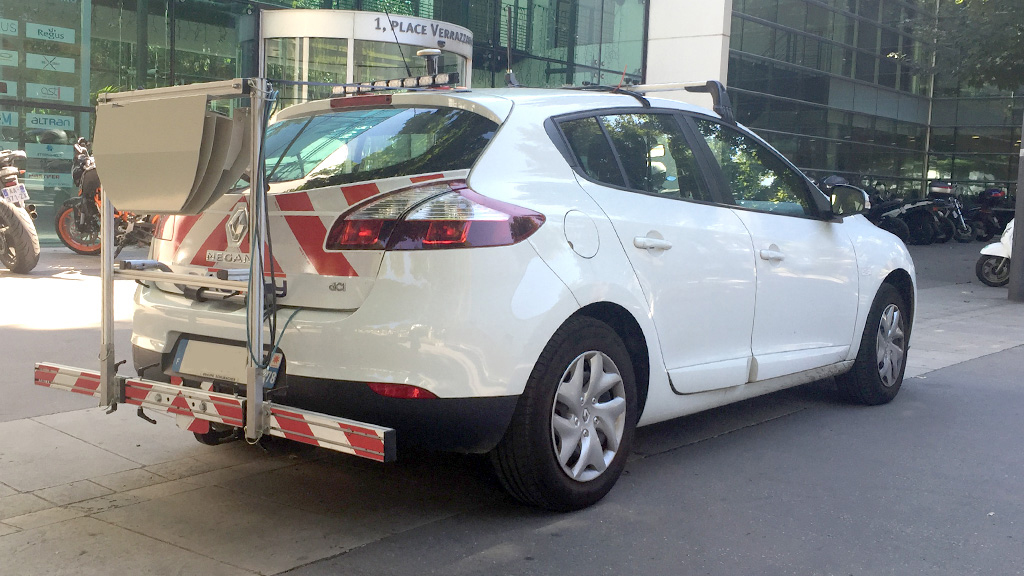 | Available Indicators | Units | Descriptions |
| --- | --- | --- |
| Bank subsidence | mm | Deformation located on the edge of the track and characterized by a sudden break in the slope of the cross section |
| Bulging | mm | Amplitude of the concave or convex curve characterizing the shape of the cross section |
| Total deformation | mm | The total deformation results from the combination of the left and right ruts and the other deformations |
| Evenness/flatness | mm | Deviation between the real shape of the profile and the theoretical regression line of this profile |
| Edge and axis rut width | mm | Cross-sectional extent of depressions |
| Edge and axis rut depth | mm | Amplitude of the depressions in the treads |
| Quantity of reprofiling without tilt correction | mm | Quantity of material needed to fill in ruts without intervening on the transverse slope of the profile |